Details

Kategorie: Synthesizers
Moduletta is a not-so-lo-fi improvement of the Lunetta concept. It offers some more possibilities on sound.
The Moduletta modules have been designet by the german builder synaesthesia an published on electro-music.com in 2016.
Not all modules in this case are Moduletta.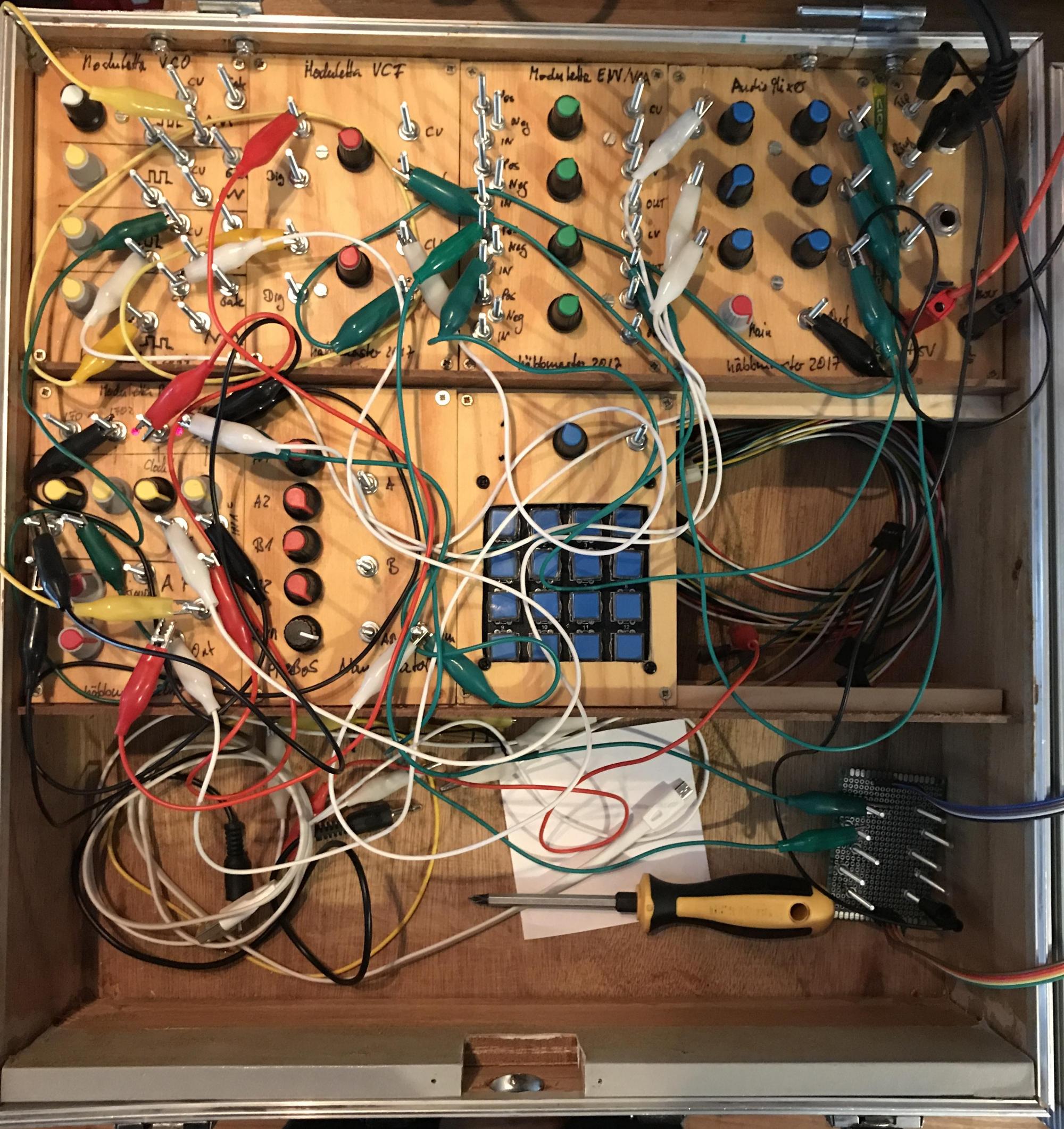 Modules:
Top Row
Middle Row

LFO / Rungler / Atari Punk Console
Phobos Nandulator
CV keyboard

Bottom Row
Details

Kategorie: Synthesizers
My third cabinet. I built this from January 2018. It is not ready yet (May 2018).
top row
Trigger sequencer, Arduino based, under construction
percussion modules to follow
middle row
Thomas Henry 4046 VCO
CGS76 Serge Envelope Generator (Ken Stone)
Dual Serge Analog Shift Register CGS34 (Ken Stone)
bottom row
CGS114 Serge Dual Universal Slope Generator
CGS92 Serge Smooth Stepped Generator (Ken Stone)
J. Haible VC divider / dual Buchla voltage processor (fonitronik)
Polivoks VCF
CGS92 Serge Smooth Stepped Generator (Ken Stone)
Details

Kategorie: Synthesizers
My second cabinet. I built this June 2017 to January 2018
top row
two Baby10 sequencers
Dual Hordijk Rungler
Dual CGS77 Serge 1973 VCF (Ken Stone)
Qud Low Pass Gate
middle row
Thomas Henry 4046 VCO
Serge Wavefolder
CGS48 VCO (Ken Stone)
Dual PT2399 echo
Yusynth dual balanced modulator / sample & hold / noise
bottom row
3 Serge Universal Slope Generators (Ken Stone)
Grant Richter Wogglebug #3
Mixer output module
Details

Kategorie: Synthesizers
My first cabinet. I built this from August 2016 to May 2017
top row
Turing Machine "Turuino", Arduino based
rotation clock divider "Dividuino", Arduino based
Sequencer "Sequino", Arduino based, to continued
"Source of Arduinity", Buchla Style, Arduino based
Dual Pulser, Buchla Style, Arduino based
middle row
Quad attenuverter
Dual low pass gate
Dual LFO
Drum module (delptronics)
Quad VCA
Dual mixer
bottom row